What's on
Upcoming events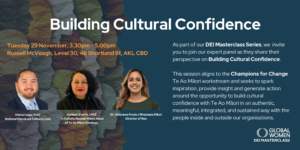 Building Cultural Confidence
Join our expert panel as they explore insights around Building Cultural Confidence. You'll hear perspectives from three thought leaders to help supercharge your confidence and insights around embracing te ao Māori.
This session aligns to the Champions for Change's workstream around embracing and integrating te ao Māori and is part of our anticipated DEI Masterclass Series.
RSVP to antoinette.naera@globalwomen.org.nz to attend.
Whāia te mātauranga hei oranga mō koutou
If you follow the path of learning, the world will be your oyster.
Champions for Change Summit
An initiative of Global Women, Champions for Change is a collective of New Zealand's top CEOs and Chairs with the shared vision of an equitable and prosperous Aotearoa New Zealand, brought about by diverse and inclusive leadership. The group are led by Co-Chairs Justine Smyth, Matt Pritchard and Vice-Chair Theresa Gattung. Together the Champions have formulated a programme of work centred on four focus areas: Increasing Gender Diversity, Increasing Māori and Ethnic Diversity, Leading Inclusive Cultures and Influencing the Outside World.
To learn more about the Champions for Change (visit page here), if your organisation would like to know more please contact Joe Consendine (joe.consendine@globalwomen.org.nz)
Champion for Change Summit Dates:
{{filtered.length}} events found | Show
Filter by Location
{{ event.start_date | date: 'short'}}
{{ event.venue_name }}: {{ event.venue_city }}
{{ event.short_description }}